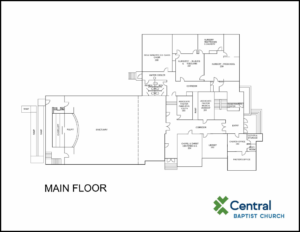 Sunday School begins at 9:30 AM on Sunday morning. Classes are available for all ages. Class names, teachers, room locations, and brief descriptions of each class are listed below. A plan view of the church interior and parking map can be downloaded here (or by clicking the thumbnail image).
Classes for Children and Students
Babies and Toddlers
Kristi Brown, Cayla Johnson, Debbie Johnson
Room 207 (the Nursery)
This class is for children from birth to three years.  Teaching materials for the class come from the Bible and Oriental Trading.
Preschool
Peggy Garrison, Fran Howard, Glenna Linville
Room 209 (the Nursery)
Children three and four years of age are taught from Lifeway Preschool Curriculum and stories from the Bible.  Mission projects include sending cards to shut-ins and collecting food for Christmas baskets.
Kindergarten & 1st Grade
Wanda Sprinkle and Tricia Dotson
Room 304
Lifeway Bible Studies for Life (Kids) curriculum is taught to children ages five to seven years.  As their annual mission project, children in this class participate in Operation Christmas Child Shoeboxes.
2nd & 3rd Grade
Katie Scherer and Shannon Kenimer
Room 303
Children six to eight years of age are taught from the Bible.  They spend one year working through the Old Testament and the other year working through the New Testament.  This allows students to work through the entire Bible during the two years they are in this class. Each Christmas, children help to fill shoeboxes for Operation Christmas Child.
4th & 5th Grade
Keith Lennox, Libby Lennox, Wendy Martin
Room 301
Fourth and fifth graders are taught using Lifeway materials and children's Christian websites.  The mission project of the class includes Operation Christmas Child Shoeboxes and sending cards to Bourbon Heights Nursing home residents. Once a year (usually in August) they hold a pool party at the local YMCA to celebrate classmates who will be promoted.
Middle School
Judy Horne and Lee Wigginton
Room 310 E-F (Youth Room)
This middle school class uses Encounter Sunday School and the Encounter magazine as their teaching materials.  Every other month the class tries to visit residents at Bourbon Heights Nursing home where they sing songs, recite memory verses, and pass out donuts and hugs.  Every Sunday the class fellowships with donuts and juice while sharing the past week's events.
High School
Michelle Patrick and David Yesier
Room 310 C (Youth Room)
This high school class is taught using Lifeway Curriculum for Students.  Annual mission projects include collecting funds for Christmas Angel gifts and filling Operation Christmas Child Shoeboxes.  Once a year they travel to a former teacher's home to honor graduating seniors in the class.
Classes for Adults
College and Career
Jonathan Graves
Fellowship Hall
This class is for single men and women who are continuing their education or are working after their education has ended.  Topical subjects are discussed each week from a biblical perspective.
Two Mackies & the Millennials
Glenn and Kathy Mackie
Room 302
Young adults up to mid 30s are walking through the Bible.  This class is very open for discussion of everyday challenges with which class members may be faced.
Purpose Driven
Daniel Langfels
Room 305
Men and women, single and married (20s to 40s) study the Bible every Sunday.  They do fundraising for Christmas mission projects.  The class fellowships every third Sunday of the month by eating together after church.
Identity 1
Chris Jones
Room 312
The intent of this class (ages late 20s to early 50s) is to be a different kind of Sunday School class.  Not only do they meet on Sunday morning, they regularly meet socially, lead the Wednesday Night Meal ministry, serve the community, state and world.  The class raises money for service/mission work within the church, the City of Paris and Bourbon County, the state of Kentucky, and the world, including North Africa, Haiti and Brazil.  Identity: Find It-Believe It-Live It.  If you are up for the challenge, ready to grow and learn, then join the class and discover your identity in Christ.  Click here to view the class Facebook page.
Identity 2
Cam Kenimer
Room 306
Adults in their late 20s to early 40s find their identity in Christ through a book from the Bible or a current book written by a Christian author. Although a separate class, members join forces with Identity 1 by serving Wednesday evening meals in the church's fellowship hall to raise funds to support Christmas mission projects.
Christ-Centered
Bill Sprinkle
Room 204 (the Chapel)
Adults (mid-50s to mid-90s) use Senior Adult Bible studies from Lifeway. The class provides funding for toy distribution and shoe purchases for a school in Blackey, Kentucky. The class also supports Haven of Rest by purchasing school supplies. Class fellowships include weekday visits/lunch at Blue Licks State Park and periodic pot-luck dinners in member's homes.
Soul Winners
Ed Fitzpatrick and Jack Crump
Room 205
This class consists of adults ages 55 to late-80s.  Since June 2005, the class has been studying the Bible verse-by-verse and are nearing the end of the New Testament. Mission/service projects include sending cards for birthdays and illnesses. Sunday School class time is their biggest fellowship, but members also enjoy fellowship during other church-wide functions.
Soul Seekers
Colby Fredrick
Room 110
This class is comprised of a broad age range from teenagers to mid 70's, which makes this class very unique. The class uses the entire Bible and special studies to learn from and dispel myths about the Bible.  Members study and place emphasis on finding out more of whom the Bible speaks and how they relate to today's life and times.
Seekers
Judy Kendall and Barbara Vandiver
Room 100
This class consists of adults (ages 65 to 85) who use Lifeway Senior Adult Bible Study curriculum.  This class is involved in mission projects which includes donating food, taking blood pressure checks, painting projects, and assisting with the clothing room during the church's fall Inasmuch Day. Join them as they share their love for Jesus inside and outside of Sunday School!
Sojourners
Kathy Kenimer
Room 112
Men and women (late-20s through 60s) use various study methods in this class, including studies of chapters or books of the Bible plus books and videos by Christian authors.  Examples have included Red Sea Rules by Robert Morgan, Culture Shock by Chip Ingram, Advancing Through Adversity by Charles Stanley, Seeking Allah, Finding Jesus by Nabeel Qureshi, and Is This The End? by David Jeremiah. The class has provided funding for building an overseas well, clothing for families in need, community redifest event, and a Baton Rouge, Louisiana family who lost everything in the 2016 flood.  They have also provided personal care items for four teenage girls after their father's unexpected death. Pot-luck fellowships are held two-three times a year at a member's home. The Sunday before Christmas they hold a pot-luck breakfast during the Sunday School hour.
M&M
Jack Kegley and Gayle Fields
Room 111
This class is comprised of adults from 50 to 70 years of age. Lifeway teaching materials for Senior Adult are used for class discussion.  Members of the class collect funds for their Single Seniors Dinner, assist youth attending church camp, deacon baskets, Baptist Haiti Mission, world hunger/water shortages, plus other community and church needs.  Fellowship time includes serving refreshments during class the first Sunday of each month and three-to-four times a year by going out to dinner.
W.O.W.
Judy Jones
Room 109
This women's only class, ages 18 to 108 years of age, uses Lifeway curriculum for class time discussions.  These women support all church mission offerings and projects and fellowships together once every quarter.